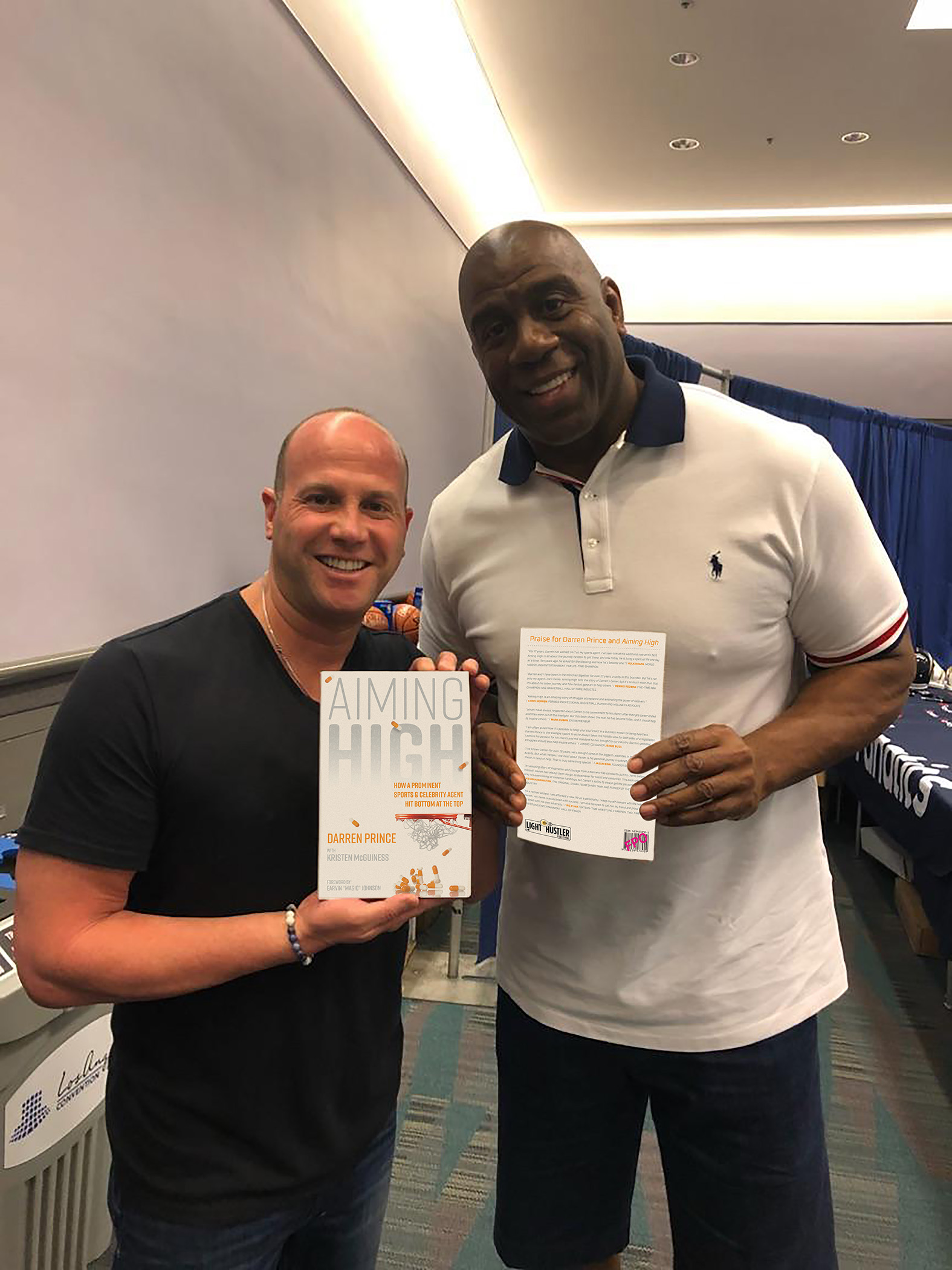 Rock Bottom at the Top
Aiming High is the astonishing story of sports and celebrity agent Darren Prince, who battled addiction while representing some of the most iconic figures in the world. After a drug overdose, many demoralizing nights, and mornings where he couldn't get out of bed without a prescription in hand, Darren hit rock bottom at the top–and in the process discovered the true meaning of success.
Foreword by Earvin "Magic" Johnson
Darren and I have worked together for 23 years. During that time, he has worked 24/7, negotiating memorabilia signings, speaking engagements, appearances, and other services. It's an honor to write the foreword for his book.
Transitioning from being a renowned athlete to a successful businessman was not easy, and I like working with people who are trustworthy, motivated, and efficient. Darren was all of the above. After the second time working together for one of my signings, Darren told me that his parents were downstairs in the hotel lobby and asked if they could join us. Meeting Darren's parents helped me realize how important family was to him. His business wasn't about making money; it was about building relationships and growing extended family. He made me a part of his family, and he became a part of mine.
Two years later, Darren shared his dream to become an agent and start Prince Marketing Group. He was young, but he had a plan and he knew what he wanted to do in life. I wanted Darren to be more than successful, so I continued to work with him as his client. Over the next few years, I watched as he worked with some of the biggest stars in sports and entertainment, such as Smokin' Joe Frazier, Muhammad Ali, Pamela Anderson, Chevy Chase, Larry Bird, Dennis Rodman, Hulk Hogan, and many, many others.
As good friends, in 2006 Darren talked to me about very challenging times that he was undergoing, the most challenging being an opioid addict. "Earvin," he said, "I can't get out of bed in the morning or function during the day without painkillers. It's taken over my life. Talking, traveling, working out, eating; I can't do anything without the pills. I can't stop."
Nothing was bigger than the painkillers that he was addicted to, which were slowly taking his life. I had seen too many lives destroyed from addiction and knew he needed to get his life in order. It took some time for Darren to reach complete sobriety. After almost nearly losing his life to opioids, Darren overcame the addiction and built a greater life through his recovery. Through sobriety, he has continued to expand his business, and he is using his testimony to help others fight their addiction. Amidst all the tragedy that has resulted from this opioid epidemic, Darren has the courage and support to share his story and inspire thousands of people in this book. Darren is a survivor!
Today, Darren doesn't just represent the biggest stars; he has become a star in his own right in the world of recovery. He speaks in schools all over the country, and he is dedicated to Turning Point, where he was awarded the Lifetime Achievement Award at their recent gala. Darren has appeared on Dr. Oz and other national media to share his message on recovery. Recently, he began working with the White House Commission on Combating the Opioid Crisis, where he plans to educate youth on how they can build self-worth and faith so they don't go down the same road he did.
Over the years, I have watched Darren Prince grow in his business, tackle his addiction, and now lead a life of spirituality and inspiration. I am extremely proud of the man he has become, and I am honored to be a part of Darren's family. I hope his book inspires you to overcome any battles you may be fighting and to be a light unto others.
– Earvin "Magic" Johnson
Turning your Bottom into your Beginning
Darren has experience what life is like in the celebrity world. Unfortunately, he also saw the dark reality of addiction through his own personal struggle. After over 15 years of sobriety, it's now Darren's mission to help others avoid and break free from addiction. You will read how Darren overcame his demons and created a new beginning while continuing to do what he loves. Through his new cause, he has become a sought after speaker on addiction recovery and mental health. He specializes in helping high functioning addicts and at-risk executives to identity and avoid the pitfalls of addiction and working with teens of self-esteem and self-worth.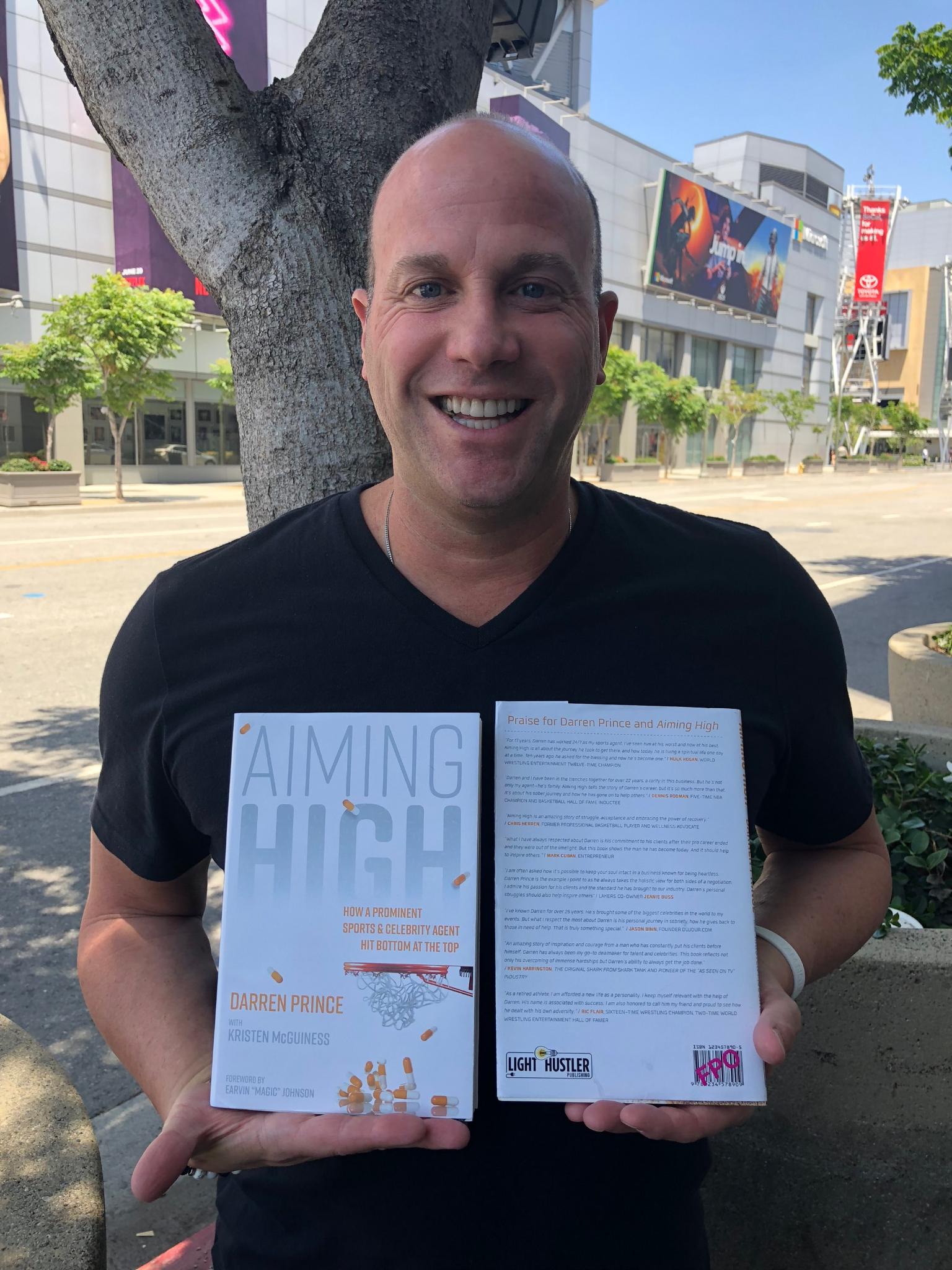 "Aiming High is an amazing story of struggle, acceptance and embracing the power of recovery."
"Well done Darren for the release of his memoir "Aiming High". His story of opiate addiction to sobriety while managing revered icons of our time."
"For 17 years, Darren has worked 24/7 as my sports agent.  I've seen him at his worst and now at his best. Aiming High is all about the journey he took to get there, and how today he is living a spiritual life one day at a time.  Ten years ago, he asked for the blessing and now he's become one."
Darren Prince was one of those very rare individuals, who did not allow fame and 25 years of incredible success to cloud his judgement of others. He exemplified what a successful Sport and Celebrity Agent should always be, that is one who puts his clients first before himself. We can be extraordinary in some of our behavioral attributes, but yet there lies underneath at times an "Achilles' Heel, a chink in One's Armor" sort of speak. Darren's weakness came in the form of addiction, the lifestyle that accompanied Darren had an air of allure, which was intoxicating in numerous forms. With the same determination that was his trademark throughout the industry, Darren applied that tenacity towards his recovery. This is a must read for us all, who believe that having certain privileges (wealth, prestige) in life excludes them from becoming entangled in drugs and alcohol addictions. This couldn't be further from the truth, as we can see in Darren's case. Through perseverance acquired through his upbringing, Darren was able to successfully apply the 12- Steps and its principles to become a guiding light for so many. I am thankful to be able to read and review this extraordinary life story, of a sober man's plight to become one that will be in the history books for those searching for solutions.
The author wrote about his experience with opioids in a raw manner that made it easy to care about him and his journey. He was at the top of his career and had a devastating fall from the top that could have destroyed him had he not taken control of his addiction and health. This book is very timely and shows that anyone, no matter how successful, can be affected by this epidemic and possibly lose it all.
Aiming High is an identifiable story of self will run riot, the inability to be true to oneself and the power it took to finally deal with life on life's terms. Darren's acknowledgement of what it was like, what happened and what it's like now is so honest , courageous and inspirational! This book needed to be written and more importantly, needs to be read!
Buy Aiming High
You can buy the book at any of the major outlets listed below, simply click the icon. For information on purchasing large quantities, please email ssimon@princemarketinggroup.com . For media inquiries, please view the media section at the bottom of this page.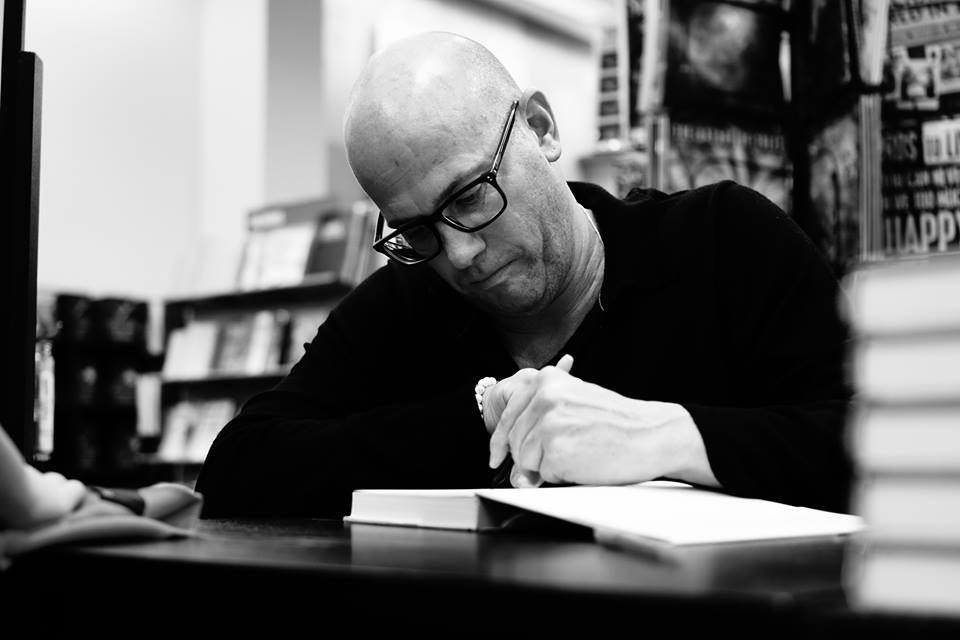 About Darren & Media Requests
Darren Prince is a prominent sports and celebrity agent and global advocate for addiction and recovery. Through his agency, Prince Marketing Group, he represents icons such as Magic Johnson, Hulk Hogan, Charlie Sheen, Dennis Rodman, Chevy Chase, and the late Joe Frazier and Muhammad Ali to name a few.
Through his new cause, he has become a sought after speaker on addiction recovery and mental health. He specializes in helping high functioning addicts and at-risk executives to identity and avoid the pitfalls of addiction and working with teens of self esteem and self worth.
I've been a frequent podcast guest the last years, sharing my story to help others. I will keep sharing the podcasts I've appeared on, new and old...
read more